Main content
Robust, Flexible, and Secure Content Management System
We build all our websites on the open-source TYPO3 CMS because it has proven over the years to be a fast, secure, reliable, and flexible platform.
TYPO3's major releases come out like clockwork every 1.5 years, and they receive three years of support. TYPO3 delivers versions this way to support its large educational, governmental, business, and NGO users — yet everyone benefits. Major version upgrades can be accomplished very efficiently.
For example, it powers the Quebec.ca government website serving a population of 8.5 million people. With TYPO3's track record of long-term reliability stretching back 25 years, we're confident it will be around for a long time. Learn more at: https://typo3.com/solutions/industry-vertical/government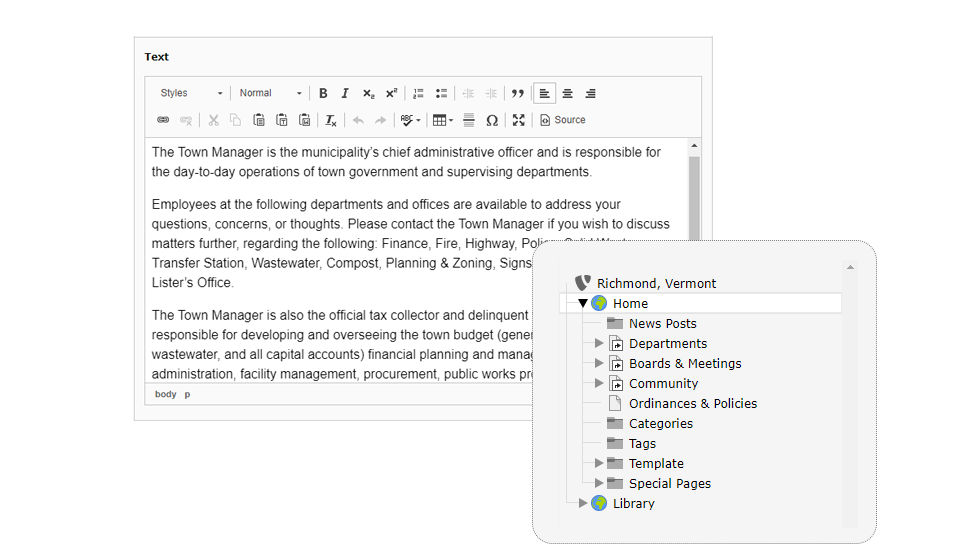 Open-Source (Not Proprietary)
TYPO3 is improved by hundreds of developers around the world. Unlike a proprietary system where you're locked into a particular provider, TYPO3 is freely available through an open source license. Learn more: What is Open Source Software? (Wikipedia)
Ecopixel's founder, Paul Hansen, serves as a member of TYPO3's Accessibility and UX Teams. The most recently released version of TYPO3 includes interface improvements for editors that he helped design. Learn more about the Ecopixel team.
Drag-and-drop file upload: Drag one file — or dozens — into a folder to quickly upload them.

Automatic navigation menus: As you add, move, and remove pages, the navigation updates automatically. Links within the website are monitored and updated when you make changes so that internal links are never broken. This is true for both pages and files.

Content scheduling: Any content, such as pages, news, events, and meetings, can be scheduled to automatically publish and expire at specific times.

Easy-to-share URLs: All pages have friendly URLs without numbers or random gibberish.

Redirects module: Create custom shortcut URLs to special pages.
Editor restrictions: Editors can be limited to editing only their section of the website.

Access control: Clearly see which pages are live or offline. Set publish and archive dates to schedule publishing. Create password-protected areas.

Email address spam protection: Email addresses on web pages in TYPO3 are encoded so they're harder for spammers to pick up. They work fine for real people, though.
Fantastic text editor: Clearly format text into number and bullet lists, headers, and links. When you paste in content, it is cleaned up automatically, so extraneous formatting won't mess up the web page.

Spell checker: A built-in spell checker helps editors fix misspellings.

Link checker: TYPO3 will scan the website and show report any links that need fixing. Broken links are highlighted in the backend editor so they are easy to find and fix.
Layout flexibility: Content editors can choose from pre-built templates as well as use dynamic content block layouts to design pages in a consistent, flexible way.

Dynamic content elements/blocks: Easily manage and reuse content throughout the site.

Image cropping and mobile image optimization: TYPO3 generates images optimized for each placement and device, and lets you crop images while leaving the original intact.

Manage uploaded files: A web-based file manager lets you organize uploaded documents and images so you can easily link to them, reuse them, and keep them up-to-date.

Multiple sites: TYPO3 supports multiple websites on the same platform. They can share features, files, editors, and overall design. It's great for creating secondary subsites for large initiatives. It provides a consistent experience for visitors when navigating, and it creates time-saving efficiencies for staff.
The Ecopixel platform builds on TYPO3 to provide a complete solution:
We would love to partner with you by creating and supporting your new website.